Skip to content
Collier provides shallow geophysical services designed to serve most facets of the energy market including petroleum exploration, frack water sources, geothermal exploration, water for solar renewable energy projects, and siting injection wells. We are a leader in the application of shallow high-resolution 2D and 3D reflection surveys for small and medium-sized petroleum exploration projects. We have specialized expertise in planning, logistical management, and field operations in environmentally sensitive and challenging terrain and sensitive regions.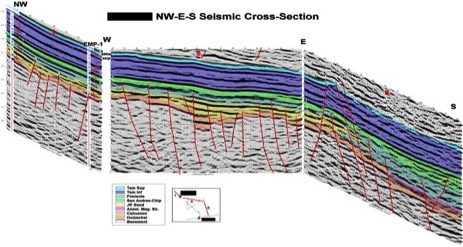 Collier designs, plans, and performs geophysical data acquisition on a contract basis or as a turnkey service including data processing and interpretation to map; stratigraphy, oil and gas deposits, coal bed methane (CBM) formations, coal seams, gas storage vessels, geothermal reservoirs, abandoned wells and pipelines, and other targets of interest.
Further, we are leaders in the use of full waveform acquisition and processing of reflection and refraction tomography data to map deep karst features and fracture detection. We are experts at finding water sources for energy, finding abandoned wells and pipelines, and characterizing sites for gas storage or Compressed Air Energy (CAES) projects.
Our sector leaders, Theodore Stieglitz, Ph.D., P.G. and Jim Pfeiffer, are respected leaders in their fields. Finn and Jim each have more than 30 years of experience in their fields and offer specialized expertise in high-resolution seismic and drone-based magnetics and EM surveys.