Skip to content
Collier Consulting offers low-altitude, aeromagnetic surveys for locating abandoned oil and gas wells and delineating buried pipelines. These techniques may also be used for mapping geology for groundwater and mineral resource exploration and development.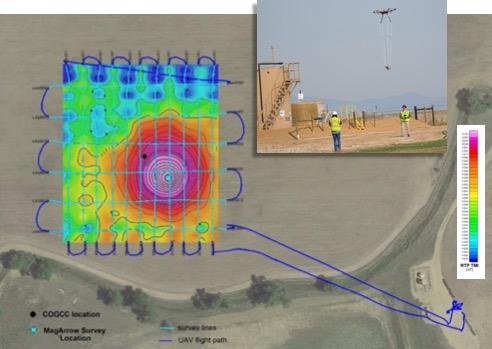 We deploy the latest innovation in magnetometers, the MagArrowTM by Geometrics, Inc., using a small unmanned aerial vehicle (UAV) to obtain magnetic data over areas that are difficult to access or simply too large to cost-effectively survey on the ground. Color photogrammetry, thermal infrared and LiDAR drone surveys are also offered. In addition, Collier Consulting offers data processing, visualization, and interpretation of drone magnetic and other data.
Our drone services manager and business development lead is Ron Bell, an exploration and environmental geophysicist. Mr. Bell has more than 30 years of experience in the acquisition, processing, and interpretation of ground and airborne geophysical data. He is a recognized industry leader in the application of small unmanned aircraft systems (UAS) to geophysical exploration and geoscientific mapping.