Skip to content
Collier is pleased to announce Theodore Stieglitz, Sr. Geophysicist, as the newest member of the Collier team. Ted has over 25 years of experience as an oil and gas exploration geophysicist. 
Ted began his career in environmental geophysics and transitioned to oil and gas after pursuing his PhD at Rice University. He has experience in a variety of R&D, business development and operational roles working for both the oil and gas industries and for seismic vendors, including the Hess Corporation, Spectrum Geo, EMGS, Veritas and ION. Ted is an expert in depth imaging and model building. He has broad 2D and 3D experience supporting several world class seismic libraries spanning numerous basins around the world. He believes strongly in the holistic integration of the Earth model through data acquisition, imaging and interpretation. He was a founding partner of Agile Seismic LP and has served as a consultant to many domestic and international clients. 
Ted is a member of the Geophysical Society of Houston and the Society of Exploration Geophysicists where he actively serves on the SEG Finance Committee. He is licensed to practice in the State of Texas. 
Theodore can be reached at:
590 E South Loop Stephenville, Tx. 76401
Office: (254) 968-8741
Cell: (713) 569-4603
Email: tstieglitz@collierconsulting.com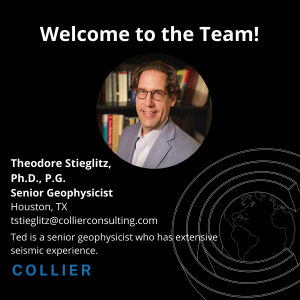 Collier Consulting and Collier Geophysics are excited to announce that we are attending in person conferences and events once again. We are bringing to you new services, staff, and information! Listed below are the conferences we will be attending in September. In addition, we have multiple team members speaking and exhibiting at events. Keep an eye out for the Collier logo!
Texas Groundwater Summit 2021 in San Antonio, Texas
AGSD DAM Safety 2021 in Nashville, Tennessee 
Water Pro Conference in Milwaukee, Wisconsin 
4th Annual GRA Western Groundwater Conference 2021 in Los Angeles, California 
33rd Annual AHS Symposium in Tempe, Arizona

John Jansen will be speaking on Rapid screening of potential MAR sites using a towed-cart time-domain electromagnetic induction system. 

CECON 2021 in San Marcos, Texas 
Association of Environmental & Engineering Geologists 64th Annual Meeting in San Antonio, Texas

Exhibit booth # 2
Phil Sirles will be speaking on Seismic and Electrical 3D Geophysical Imaging for Landslide Remediation and 3D Geophysical Investigation to Evaluate Risk at Karstic Wind Turbine Foundation Sites. 
Trever Ensele will be speaking on Thru-Dam Seismic Tomography. 
Doug Laymon will be speaking on Imaging and Mapping of Karst Features.
Collier Consulting's Senior Vice President, Hughbert Collier, Ph.D., P.G. will be presenting, "Guidelines for Assessing the Feasibility of Aquifer Storage and Recovery" at this year's Texas Water Event in Houston, Texas.
Biography
Dr. Collier is a hydrogeologist and Senior Vice President of Collier Consulting, a geoscience, environmental, and engineering firm. Hughbert has over thirty years of experience in consulting, research, technical support for litigation, and lecturing. He has taught short courses for the National Ground Water Association and undergraduate and graduate hydrogeology courses at Tarleton State University.

Hughbert, along with his staff at Collier Consulting, has conducted hydrogeological investigations throughout the United States. Recent projects have included Aquifer Storage and Recovery feasibility, groundwater contamination investigations, hydrogeologic and engineering services for fresh and brackish groundwater development, groundwater modeling, and Hydros software development.
Dr. Collier will be speaking on Friday morning April 5, 2019 during the Water Resources Technical Session from 9:30 AM – 10:00 AM.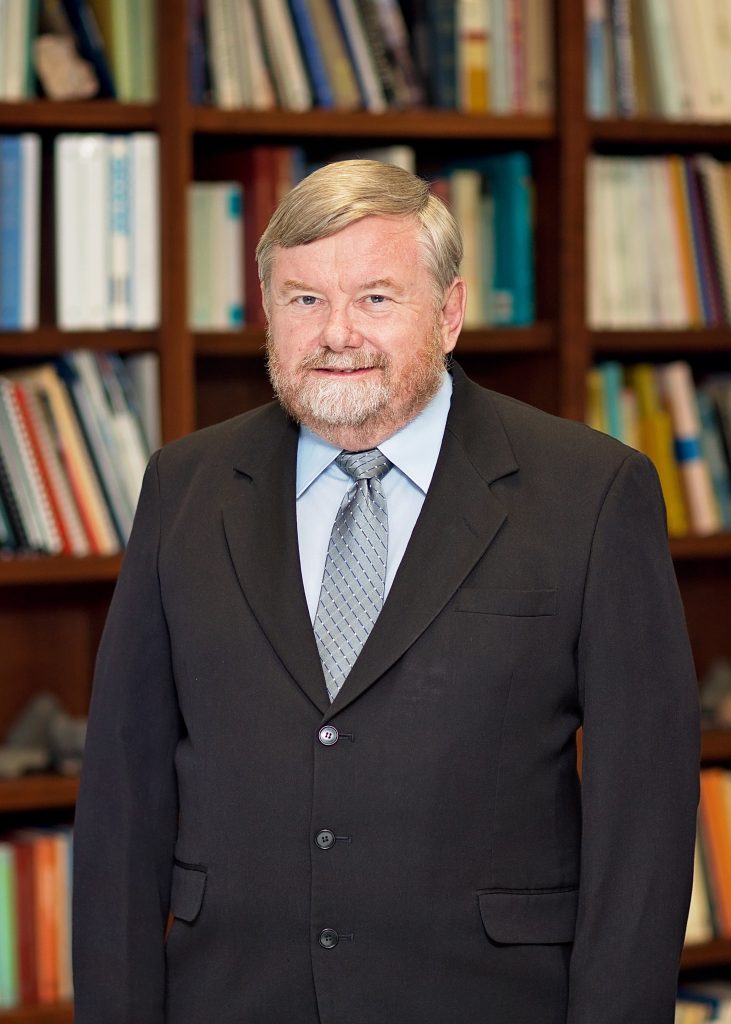 The Colorado Groundwater Association has invited Ron Bell, Senior Geophysicist, to be the luncheon speaker for their monthly meeting. On November 14, 2018, Ron will be presenting "Applying Groundwater Geophysics in the Prairies and Mountains of Colorado". In his discourse, Ron highlights the geophysical data and cost effective benefits of integrating geophysical methods in groundwater resources exploration and how they contribute to the success of the project(s).
Ron has over thirty years of experience in the application of geophysical technology to groundwater, mineral, geothermal, and hydrocarbon resources exploration as well environmental and geotechnical subsurface site characterization. His experience includes the acquisition, processing, visualization, and interpretation of terrestrial, borehole, and airborne potential field data including direct current resistivity, induced polarization, time and frequency domain electromagnetic, magnetic, and gravity methods.
The luncheon will be from 12:00 PM – 1:00 PM
Geotech Environmental Equipment, Inc.
2640 East 40th Ave. Denver, CO 80205.